Zenolive Organic Extra Virgin Olive Oil - Gold Medal Winner
Regular price
Sale price
$20.99 CAD
Unit price
per
0% Discount
Sold Out
Medium-intense Taste
Pepperiness is slow, arriving at the end
Augmented Reality Label
Experience our label come alive
Hand-picked olives
to prevent harming the tree, and to preserve the aroma
No plastics storage
is used during the process
No preservatives
0% preservative in this product
Certified Organic
by Ecocert Canada
500 ml
Tasting note
This is what a sommelier said about Zenolive Organic EVOO:
"I found the nose medium strength very attractive and inviting: notes of fresh vegetables, raw peas, lettuce and cooked zucchini. The mouth is warm and full of nuts and cooked cabbage. The bitterness is discrete, while the pepperiness is slow in arriving but medium-high intensity. There is a pleasant sensation of green nuts on the finish. It is fresh and a very pleasant oil."

Cultivar Chemlali, Chetoui 
Award Winner at OLIVINUS IOOC 2022 Argentina and NYIOOC 2023 New York
The FIRST Tunisian Organic EVOO with an Augmented Reality Label. Yes, our label comes alive!

100% Unadulterated Oraganic Extra Virgin Olive Oil. When it is adulterated, olive oils can contain a blend of inferior quality vegetable oils so it could sell at a lower price – and labelled as the "Extra Virgin Olive Oil." We're here because of our personal health journey to have products with honest and clean ingredients.
In-house certified nutritionist quality assurance. Yes, it matters.
Super fresh with 0.2% acidity. 0.8 percent is average, 0.5 percent is good, and 0.3 percent is considered the highest quality.
High in polyphenol - 300mg/kg (>200mg/kg is considered high) means that these compounds minimize free radicals in the body.
Certified organic and non-GMO
Hand-picked olives
Top 5 proven Benefits:

Contains Oleocanthal – natural anti-inflammatory
Contains oleic acid – fights inflammation
Lowers bad cholesterol
It contains antioxidants to prevent cancer
It has antibacterial properties to kill harmful bacteria
Shipping during winter/chilly months: Extra Virgin Olive Oil begins to crystallize and solidify at around 12 ºC. It can look clumpy or lumpy, but this does not negatively impact the olive oil's quality or shelf life. It should clarify and return to normal when left at room temperature for a few days. 
Production Date:
 03 MARCH 2023
Expiry Date:
 02 MARCH 2025 
Lot:
 CVE23/018 OR 01
Peer-reviewed articles:
OFFICE & WAREHOUSE  Mississauga, Ontario, Canada
MILL & PRODUCTION  Sahel Region, Tunisia 
Suggested Use

Salad dressing

Drizzle on soup

1tbsp with organic fresh lemon juice to flush toxins from the liver
Tips

It is not recommended to heat olive oil for optimum benefit

Olive oil shall be in a dark bottle

Putting oil in a plastic container will leach the PVC plastic material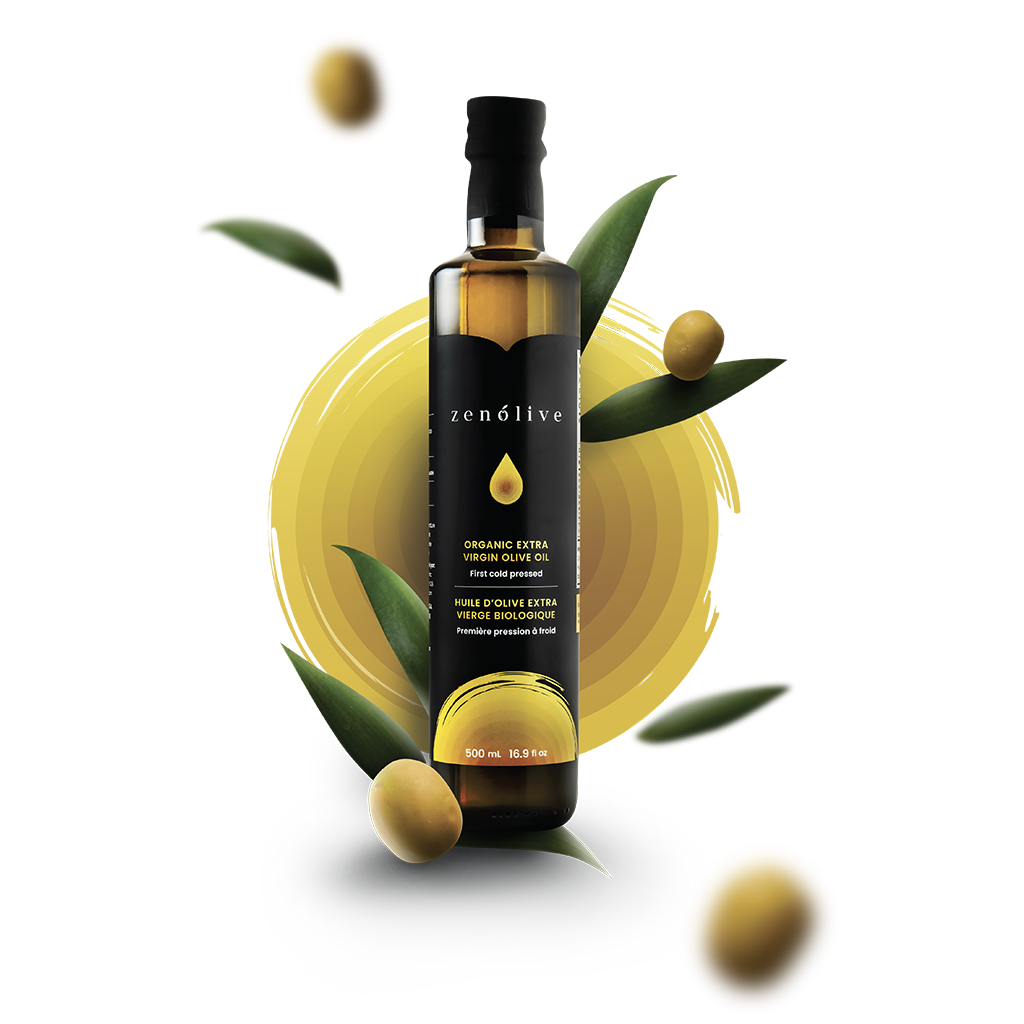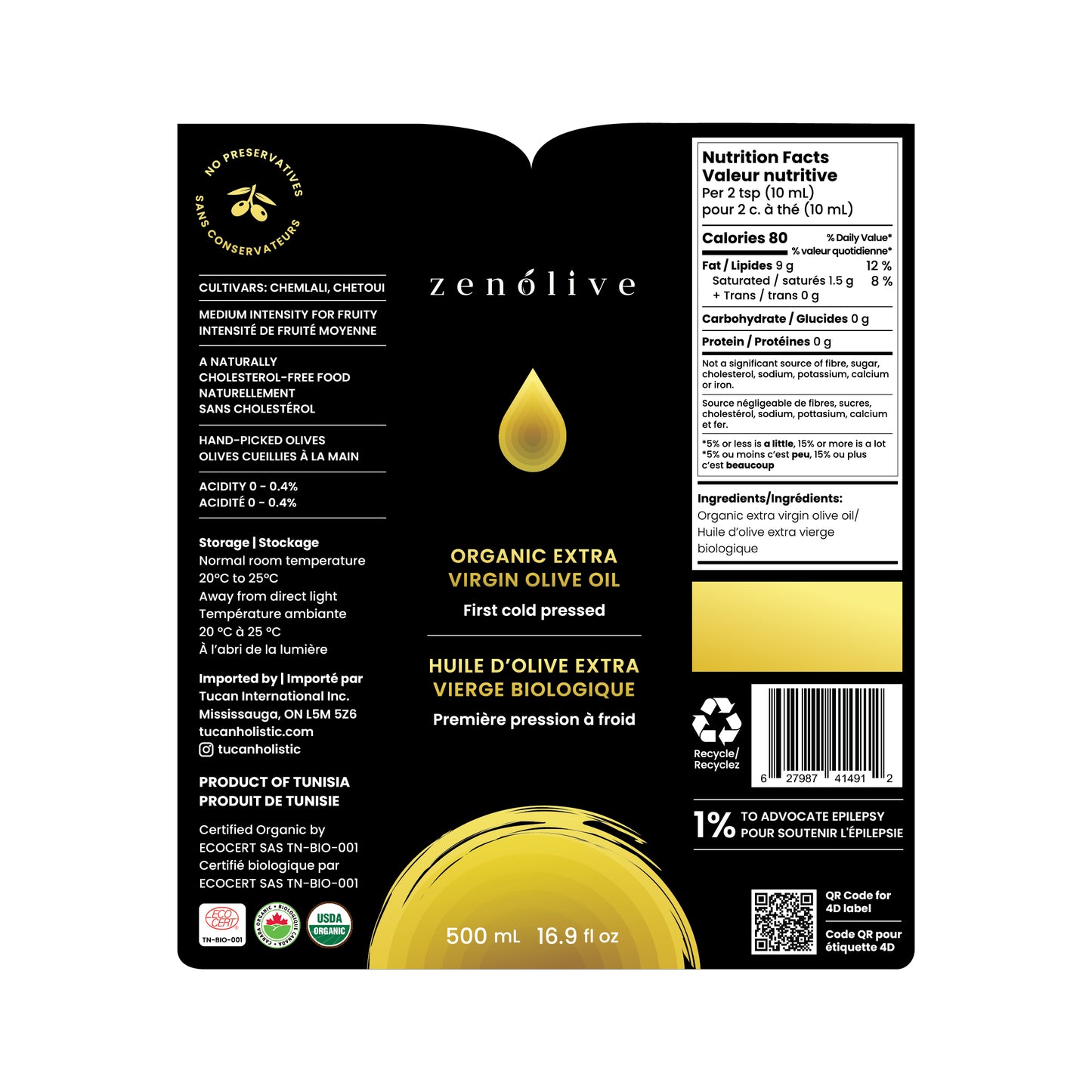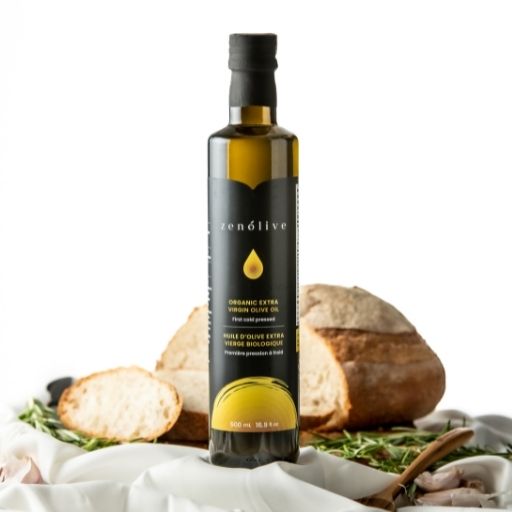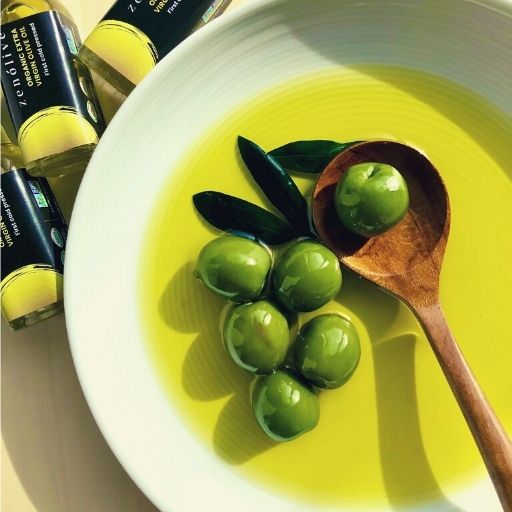 One of the best olive oils!
Excellent quality with great taste. Some of the best organic olive oil I've tasted. Arrived quickly and nicely packaged. Immediately ordered more the same week for gifts.
Enjoyed
I have been using this olive oil as much as I can to drizzle over soups, pasta, and hummus. I do like the taste and flavour. I made a homemade salad dressing using this oil and it was lovely. The olive oil comes in a lovely box and would make a great hostess gift or gift for any more who loves to cook.
Exquisite olive oil!
The olive oil is pure and unadulterated, with the lowest acidic levels I have ever seen in the market. I am a customer for life!
Simply the best!
After becoming friends with the owners of this local, Canadian company and realizing how passionate they are about holistic health, food and taste, I knew that they would have top notch, quality products and this superior Olive oil is a great example! I took it to a lunch yesterday and served it with bread. We all agreed that it had a beautiful flavour (without bitterness) and was good on its own, even without the addition of balsamic. I plan to use this for my homemade salad dressings as well as all my cooking needs. Highly recommend!
Wonderful Oil, Great Company!
My husband and I love cooking and love good food- this oil has a fantastic flavour and a lovely aroma! You can tell the difference in the quality as soon as you open the bottle and take a sniff. We love that it's organic and from a small Canadian business as well, we will definitely continue to purchase!